Impressive! Mesmerizing! Amazing! The Gruss Center for Art and Design (GCAD) is still getting its finishing touches, but Lawrentians are already excited about what they see. "The new GCAD definitely exceeded my expectations," said Birney Sherard '22.
Manoc Joa-Griffith '22 was "amazed" by the building's architecture The abundance of natural light, he said, provides a "beautiful natural and majestic look to the interior." She noted that the building has both an "industrial and contemporary feeling." Sherard agreed, saying, "Looking at the architecture and overall design, it was pretty evident to me that so much thought and planning had gone into the development of the building and everything was intentional."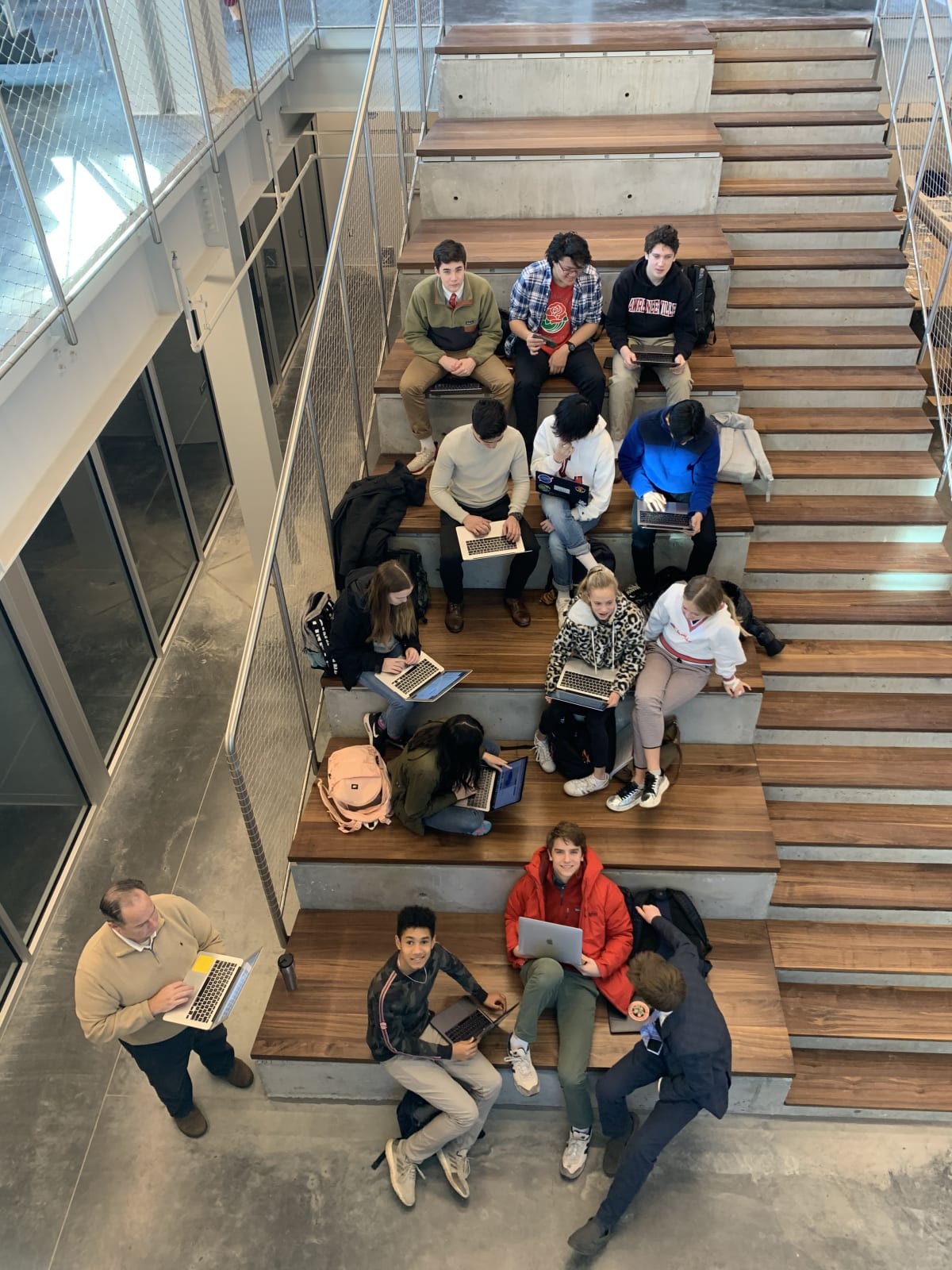 Members of Science Master Michael Hickey's Inquiries in Chemistry and Physical Sciences course were among the first to tour the building and have an actual class. "It's mesmerizing to be inside GCAD," said Sneha Kondru '22. "I think that more classes should make an effort to hold a class [there] because it offers a nice change of scenery while also being practical with its very large screens and computer lab."
Members of Hickey's class are printing 3D versions of the periodic table of the elements as an assignment. Each will vary depending on the periodic trend, such as atomic radius, ionization, electronegativity, etc., that they've chosen to study. Sherard feels 3D prints will make memorizing trends easier. "I am so impressed that my class is able to use these facilities to better our understanding!" she said.
Sherard and her classmates are already thinking about what else they can build in the 16,000-square foot makerspace. "I have a couple projects in mind, all of which require skills beyond my own, but I know that I have access to professionals on campus that would be happy to help anyone with a project!" she said.
Joa-Griffith is eager to start using what he called the "coolest" tool – the WaterJet Cutting Machine. "It propels water at a high velocity and pressure to cut through objects," he explained. "I'm in the process of making a bench for GCAD and I hope to use all the cutting tools, especially the WaterJet, to cut my bench out of wood."
Third Former Sneha Kondru is contemplating the "tons of opportunities" offered by the building – possibly building a chessboard for Stephens House, complete with 3D-printed pieces. "It's so cool to think that the multiple 3D printers and the wood and metal shops are available to the student body to use, make creations, and build things all on our own. . . . the possibilities are endless."
For additional information, please contact Lisa M. Gillard Hanson, Director of Public Relations, at lgillard@lawrenceville.org.